The Postdiluvian Round-Up
by
Brian Michael Foote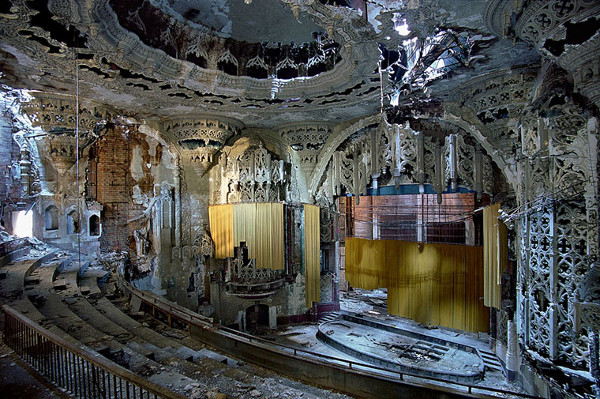 Not actually my kitchen and bedroom ceiling.
Hello Commons!
Sorry I missed everyone last week, Irene took out my ceiling.  There's something kind of magnificent about watching the plaster on your kitchen and bedroom ceiling fall off.  Granted, that kind of existential tourism is only fun if you don't really mind moving the mattress to the living room for a week.  My father up in Vermont was less amused with his Irene encounter.
For a moment there on the Commons I thought some of our own might be in real trouble.  Anthony Picciano @APicciano checked in with a quick note letting us know he was without power.  Soon enough he was back to blogging with some amazing photos of the aftermath.  Fellow Community Facilitator Sarah Morgano @sarah_morgano checked in and let us know that the city was looking for able volunteers to man the Evacuation centers.  Andrew Boyarsky blogged about his experience through the hurricane as the Project Director for the Coastal Storm Plan Training, training thousands of the city's storm responders.  That's amazing! Who knew we had one of those hanging around the Commons?  Others chimed in with updates across the groups and blogs.  All in all it was really wonderful to watch our community keep in touch during a very strange week in NY.
Jonathan Cope @jcope1 over at 'Information Literacy Thinking Group' came back to the blog after a summer off.  If you're new to the Commons I highly recommend taking stroll through some of the back posts on this blog to get caught up.  Welcome back Jonathan and looking forward to another semester of great blogging from ILTG.
Footenotes favorite 'Zines at Brooklyn College' said farewell to their summer interns.  Robin Potter and Devon Nevola said their goodbyes while both pledged to stick around and keep up with the project.  Meanwhile – if you have some old zines laying around that somehow managed to survive various break-ups, book sales, and that final purge where you threw out your 'Jesus and Mary Chain' t-shirt (and now kick yourself daily) please send them over to the Brooklyn Zine folks who promise to love and care for them.  Yeah that was a long sentence…what.
Last but not least there's a new kid on block.  Atchung Messies is equal parts Groucho biopic and inventory catharsis.  There are forgotten religious relics, Byzantine maps and a lot of red carpet.  Right on.
Till next week!