Round-Up! 2/16-2/23
by
Brian Michael Foote
Hello Commons!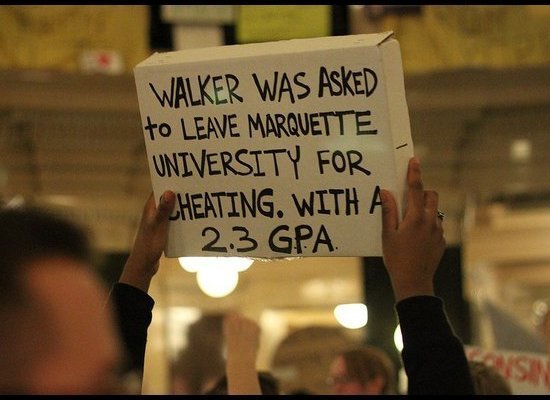 Man, I don't even know where to start.  I want to say something about Qaddafi, but I know that if I refresh AJE something new and crazier has probably happened already.   To keep it local, our very own CUNY Pie here on the Commons sent some love to our union brethren in Wisconsin.  Protesting is hard work, gotta keep the calories up so you can keep marching.  I'm sure most of you have seen (or heard rather) the phone call between "David Koch" and Governor Walker.  Ian Murphy managed to talk his way past several assistants imitating David Koch to have an unsavory conversation with the Governor.  It's worth a look, the bit about sending in fake protesters to get things out of control is real classy.
In other news Obama has asked the Department of Justice to stop enforcing parts of the Defense of Marriage Act…
Yeah ok, about time.  I'm supposed to weep tears of gratitude?
Next.
Uprising all across the Middle East and Africa, marriage equality in America, labor rallies in Wisconsin, Ohio and Indiana.  This seems like an awful lot of work to keep the news cycle busy just so Wikileaks never gets a chance to release those end-of-February Bank of America documents we've all been waiting on.
Meanwhile on the Commons:
While he hasn't explicitly thrown his hat in the ring, Joseph Ugoretz @Jugoretz made his first big move for being mayor of the Commons by posting, perhaps, the greatest blog post ever.  You know how sometimes you're sitting around and you're like, "man, I wish all my tech savvy friends would just make a big list of all the awesome stuff they like on the internet so that I could do more than just alternate between my facebook and the Commons tabs?"  Yeah me too, and then sure enough – boom – it happened.  Apparently it's moved over to a wiki now and growing like crazy.  Somebody send this team some pizzas!
Rob Laurich @madlibrarian over at the blog Madlibrarian was thinking about the role social media played in Egypt and continues to play in other countries.  My own two cents on this is to suggest that tools like twitter and facebook are a kind of accelerant.  The idea that people can run intelligence quicker than the opposition on consumer hardware is incredible when you think about it.  People get anxious at the idea of an internet kill switch but I'm not even sure if that's possible anymore.  At least not in any complete, systematic way.  You'd have to take down texting, satellite television, dial-up connections.  I mean if the situation in America were so grim that we had shut off all communication, getting the internet up and running would probably just be one of our many immediate concerns after, you know, learning how to field strip a deer and ambush the enemy with our makeshift weapons.
Oh but speaking of the internet for a second, looks like the Republican House has decided to try and stop funding the FCC's enforcement of net neutrality.  Not that we were all that pleased with how net neutrality was shaping up under the new FCC protocols anyways, but come on already.
Anyway, back to CUNY…
Young upstart blog and office favorite Twinkamili is concerned about whether aliens are going to laugh at our jokes.  I'll leave it at that.
Tony Picciano pulled out this great post about Bill Clinton honoring the Little Rock Nine at his museum. Heros!
We have a brand new blog on the Commons!   Tom Zlabinger @tzlabinger over at Invisible Target said hello this week.  Welcome to the blogs on the Commons Tom, I assure you we're all figuring this out as we go.  Glad to have ya and looking forward to seeing what you make of it!
Finally to wrap up, our very own Scott Voth @ScottVoth made a great post over on Codex about all of the new themes available for the blogs.  I know change is hard, and I'd be lying if I didn't say I wasn't sentimental over how my own blog looks, but there are some really sharp new themes out there.  Come on, it doesn't hurt to just look.
There's your week folks, see you next Wednesday!